In the realm of artificial intelligence, ChatGPT has achieved remarkable advancements, surpassing previous limits. While the introduction of ChatGPT 4 has garnered attention, the integration of plugins with this AI chatbot has further elevated its popularity. Despite Google's forthcoming Google PaLM 2 model promising improvements, OpenAI's ChatGPT continues to shine. For those unfamiliar with ChatGPT plugins, learning how to install and utilize them is a quick process. However, you might wonder which ChatGPT plugins are the finest and worth utilizing. To assist you, we have carefully curated a list of the top 15 ChatGPT plugins that you should consider using in 2023.
1. Prompt Perfect
First on our list is Prompt Perfect, an outstanding ChatGPT extension that enables users to craft impeccable prompts for the AI chatbot. If you find it challenging to create effective prompts, Prompt Perfect will be immensely helpful. To begin, simply enter a prompt for the desired query addressed to the AI bot. For instance, I asked ChatGPT to compose a 200-word story about cars.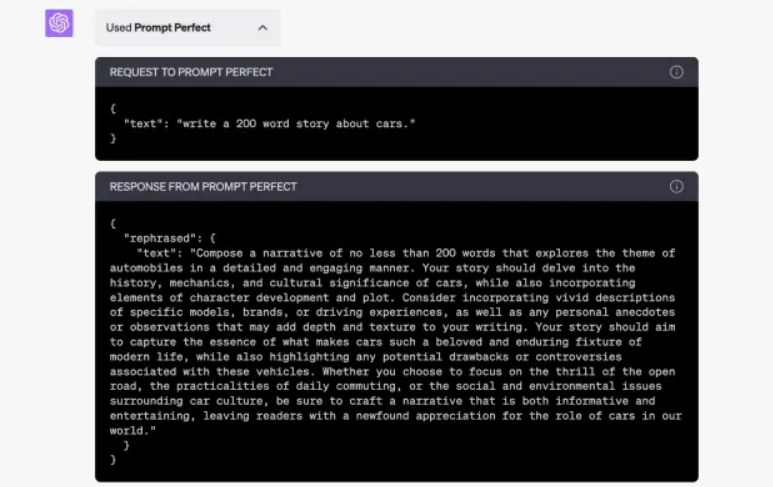 Prompt Perfect for ChatGPT Ensure to include the word "perfect" before your prompt. Once entered, the plugin optimizes the prompt under the hood, enhancing its detail and specificity for ChatGPT. This optimization enables the AI chatbot to provide informative and precise responses to your prompt. Moreover, this plugin is user-friendly and requires no additional intervention, offering a seamless plug-and-play experience. Give it a try!
2. OpenTable
One of the exceptional ChatGPT plugins we explored was OpenTable, designed for effortless and swift restaurant reservations on the go. This plugin streamlines the booking process by requiring users to provide basic details such as date, time, location, and the number of guests. OpenTable, the Best ChatGPT Plugin After receiving the necessary information, the plugin automatically finds suitable restaurants and provides reservation links with pre-filled details. OpenTable stands out as one of the best ChatGPT plugins for convenient restaurant bookings.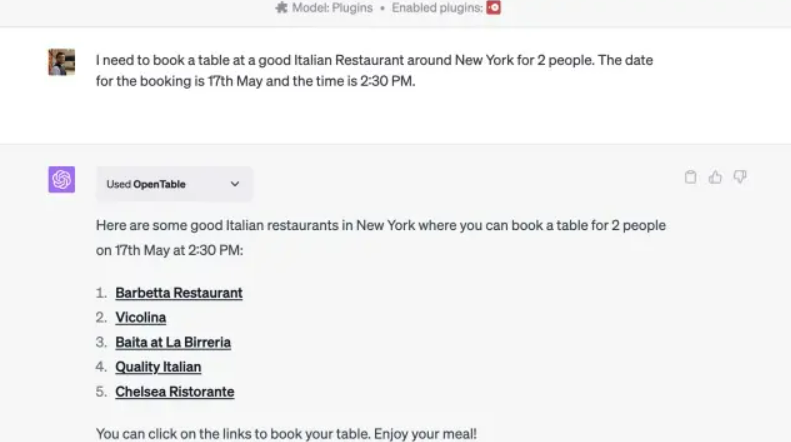 3. Wolfram
Although the Wolfram ChatGPT plugin may be slightly technical for some users, its advanced capabilities make it one of the finest plugins available. Powered by advanced data, Wolfram equips ChatGPT users with comprehensive computational abilities, mathematics support, and real-time data to solve various queries.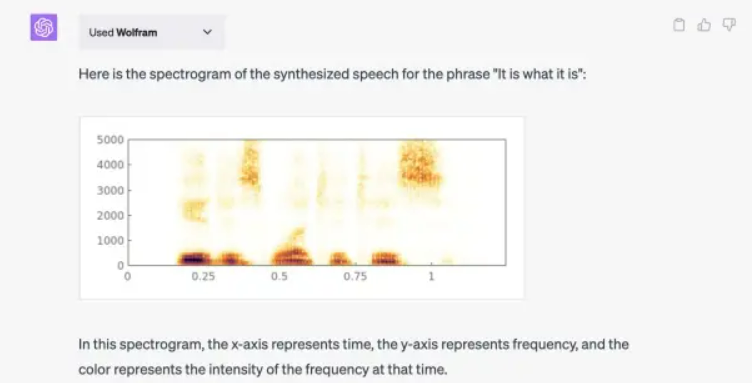 Wolfram, Among the Top ChatGPT Plugins
Beyond basic math problems, you can explore advanced features like creating genealogical trees, generating audio spectrograms, illustrating anatomy, and much more. Additionally, Wolfram provides real-time date and time information, a capability beyond the scope of ChatGPT. Feel free to experiment with Wolfram and discover the feature that best suits your needs within this ChatGPT plugin.
4. Zapier
Tailor-made to simplify and streamline workflows, Zapier emerges as one of the top ChatGPT plugins for professionals and marketers. In essence, Zapier allows users to interact with over 5,000 different work apps without the need for extra steps. Popular applications like Gmail, MS Outlook, and Slack, among others, are seamlessly integrated with this plugin. All it takes is a one-time connection and the approval of certain actions.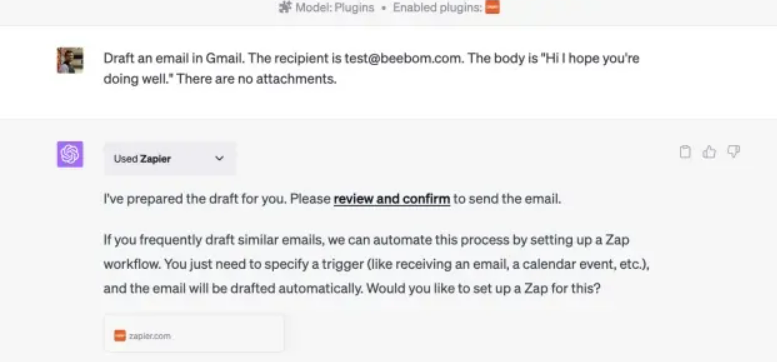 Zapier, a Productivity-Boosting ChatGPT Plugin Once set up, you can draft entire emails or send detailed Slack messages directly from ChatGPT. Zapier collaborates seamlessly with ChatGPT, enabling users to make edits to their actions. For instance, when asked to compose a test email, Zapier swiftly created the action nd allowed me to send it without hassle. If you're looking to streamline your workflow and eliminate unnecessary steps, I highly recommend checking out Zapier. It's perfect for those who prefer a more efficient approach to handling work tasks.
5.Kayak
When it comes to travel planning, Kayak is undoubtedly one of the best plugins to accompany ChatGPT. With Kayak, users can effortlessly book flights, hotels, and receive travel recommendations to fulfill all their trip-planning needs. Just provide the basic details such as origin, destination, arrival, and departure time, and Kayak will present you with a wide range of flight options tailored to your preferencesThe detailed information includes total prices, expected layovers and delays, popular airlines, and more. Once you've made your selection, simply ask ChatGPT to generate the necessary links, and Kayak will provide them promptly.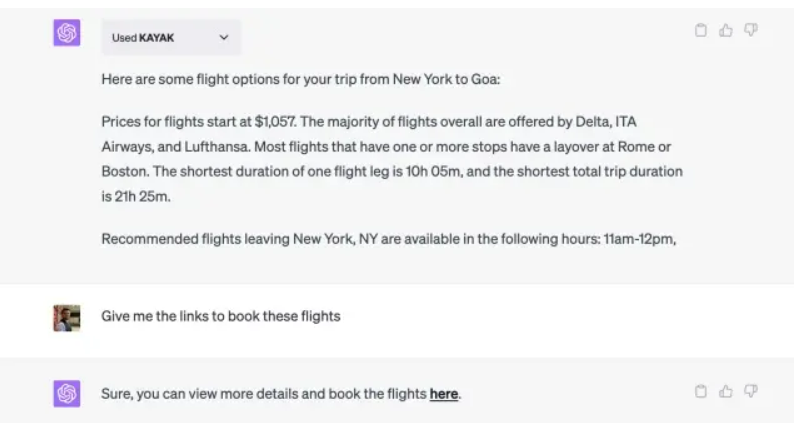 6. Link Reader
While there are ChatGPT Chrome extensions available that can read webpages for you, not everyone prefers using extensions. That's where Link Reader comes in as one of the best ChatGPT plugins for those seeking simplicity. With this plugin, you can extract information from various types of links, including webpages, PDFs, images, and more.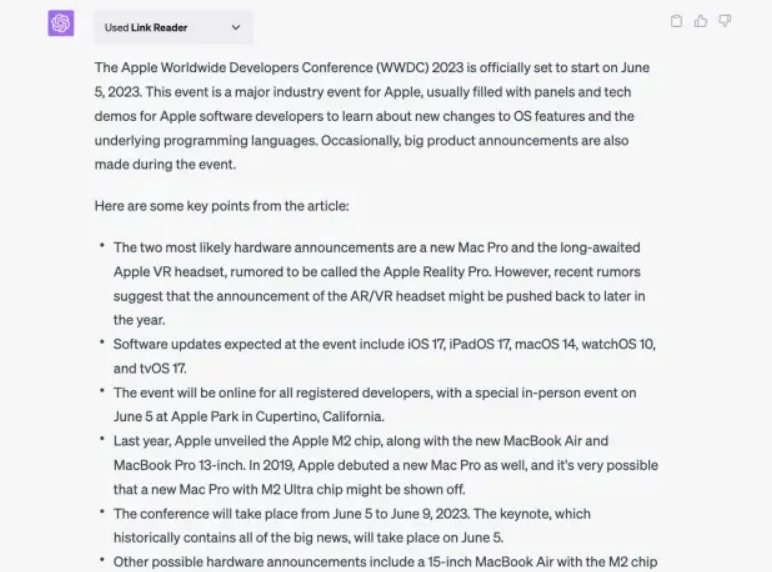 Link Reader: Extracting Information Simplified for ChatGPT
All you need to do is provide the plugin with a link and request the desired information. ChatGPT will then interact with Link Reader and deliver a detailed response to your query. If you're looking for a quick summary or specific information from a link, this plugin is the perfect choice.
7. Speak
For language enthusiasts, Speak can prove to be an invaluable ChatGPT plugin when used effectively. As the name suggests, Speak serves as a language tutor, allowing you to learn how to say anything in other languages.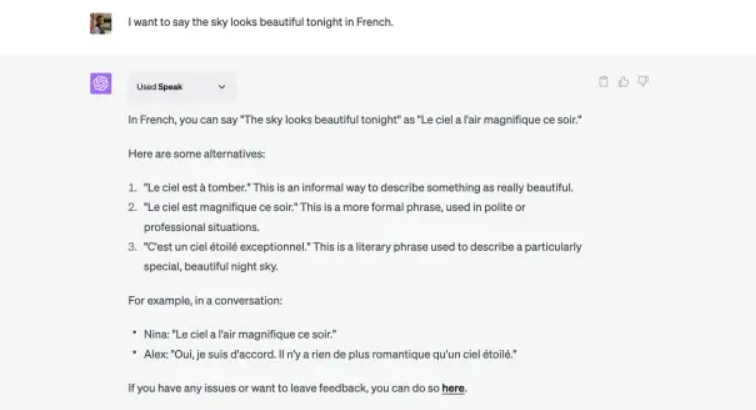 Speak: Your Language Tutor ChatGPT Plugin
In addition to translations, Speak offers assistance with verbs, conjugations, nuanced grammar, and more. Simply type out your language query, and the ChatGPT plugin will promptly respond with the information you need.
8. There's an AI For That
While many plugins serve specific functions, There's an AI For That stands out as an all-encompassing ChatGPT tool. This plugin houses a vast database of diverse tools that can cater to both personal and professional needs. From image editors to PDF converters and much more, you can find a wide range of handy tools within this plugin.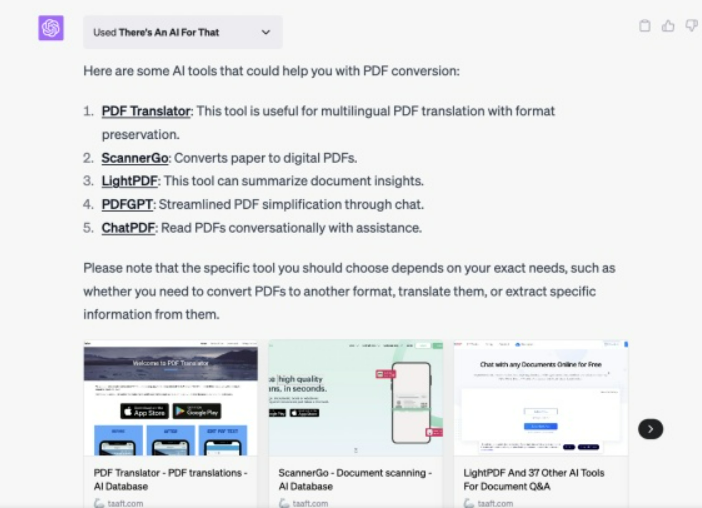 There's an AI For That: Your Comprehensive ChatGPT Tool
To search for specific tools, simply ask the AI about your specific requirement, and it will provide you with a curated list of options. I personally tried it for PDF converters, and the plugin swiftly presented me with a concise list. Feel free to explore this plugin and discover the array of useful tools it has to offer.
9. Instacart
While ChatGPT already provides you with recipes, it lacks the ability to search for and suggest ingredients. This is where Instacart comes into play, earning its place as one of the top ChatGPT plugins. Focusing solely on food-related queries, this plugin excels in generating food and drink recipes while providing detailed step-by-step instructions.

Instacart: Enhancing Your Culinary Experience with ChatGPT
What sets Instacart apart is its seamless integration with its main service page, where users can instantly purchase the required ingredients. So, if you find yourself running low on parmesan for your pasta, Instacart can help you locate where to get it. The recipe and ingredient generation process is fast and accurate, making it a delightful experience for food enthusiasts. Give Instacart a try and see how it enhances your cooking adventures.
10. Show Me
ChatGPT goes beyond leisure and offers various productivity tools, and Show Me is a prime example among the top ChatGPT plugins. This handy service allows ChatGPT to create real-time diagrams of almost any kind. Whether you need to visualize a concept or present information, Show Me has got you covered.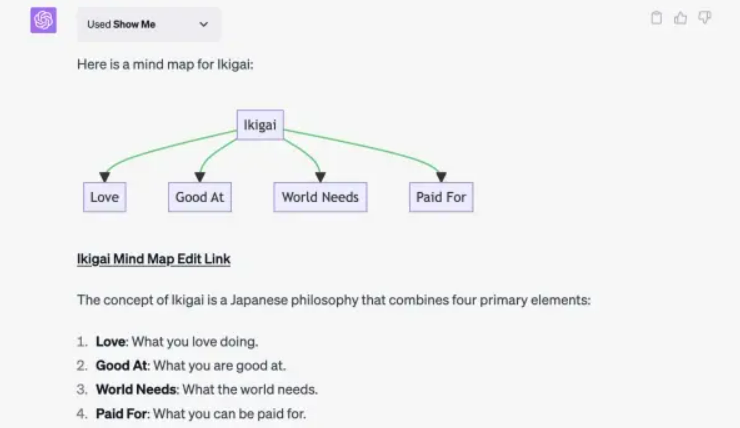 Show Me: Unleash the Power of Visualization with ChatGPT
To utilize Show Me, simply provide a basic concept that you want to display. In my experience, I asked the plugin to create a mind map illustrating the concept of Ikigai, and both ChatGPT and Show Me worked seamlessly to provide a visual and text-based representation. The next time you need to generate a quick diagram, consider using the Show Me plugin with ChatGPT.